Start selling your products today on thousands of online retail stores. Control your market pricing with no exlusive commitment.
USA Online Retail Program
The PCG Factory Choice Program offer begins with the Online Dropship Program. We will promote your item to thousands of online e-commerce retailers which PCG offers full integration into their online sales platform making the process very simple for those retailers. We even have an app for all Shopify, Woo Commerce, and Big Commerce sales platforms which allows online retailers easily access and automatically integrate/install your item's selling points, specifications, photos, and videos. They simply click on your item and it automatically loads onto the e-commerce website. You can even set a minimum allowed retail price (MAP). This means you control the market price of your product.
Brand Support
You can sell your item under your own brand. So you can use your factory branding if you prefer. Otherwise, we will provide you with a brand label to print on the items. This is your choice. Product Creations Group will represent the brand you choose with local customer support and sales in the USA.
Price/Market Control
You have control of your item and pricing. No exclusivity. Under the PCG program, you determine any minimum pricing to protect your market price for other suppliers. We only require that you do not sell the item on Amazon for any less than 2x the wholesale price. You also have control of your inventory. You can stop the program and all sales at any time or you can stop sales to specific retailers. PCG will give you full control so you can keep your options open with other suppliers and retailers. If you receive a large order from another US supplier and there is a conflict, we can remove your item from any online site or retailer, or we can end the entire program immediately to stop all sales. It's always your choice.
Product Ownership/Payment
You own the product. PCG does not work on a standard margin. We work on a smaller supplier margin to support better market retail pricing and increased sales volume. We only make money when your product is successful in volume. However, PCG does not purchase warehouse inventory for this program. Payments are sent for each item that sells. This means you own the product inventory to allow full control and PCG automatically sends payment for each shipment.
Dropship
Your product must be physically available in the United States and verified. You have the option of fulfillment in our warehouse with free storage or you may choose an independent third party fulfillment within USA and work with them directly. We can provide you with options including a preferred Chinese fulfillment partner. If you choose third party warehouse/fulfillment, we must verify the amount of inventory present and PCG will send orders directly to that facility. If choose PCG warehouse fulfillment, PCG will ship inventory back to China or to another US warehouse at your request with no questions asked. It's your choice.
Quantity
Start small and fast. Let's get started next week! Air freight a small test quantity to our warehouse and we can begin testing online sales immediately. We understand you may not normally keep inventory, but you may want to test this program. So begin the program with 100pcs or 1,000pcs. It's your choice. Please understand that our sales efforts and promotion of your product increases with larger inventories to sell from.
Warranty
We must provide customer service support for your item and a standard 1 year warranty. So you must also provide us with a 1 year warranty. If we receive any defects or exchanges, we then deduct these from your account. Returned orders are sent back to the fulfillment warehouse where your goods are held. They can be shipped back to your factory by request. Returns are usually very minimal.
Amazon Kills
Amazon can kill your item. Do not sell your item for cheaper than retail on Amazon. If you sell the item on Amazon for less than the agreed retail price, your item will be removed from the PCG program.
PCG can also list your item on Amazon to protect the market price. We will set a retail price which does not compete with other retailers and online platforms and watch for 3rd party sellers of your item. You or PCG can do this. It's your choice. We only ask that you keep control of Amazon pricing.
Retail Store Sales
If your item is successful selling online through our dropship program, we can move to the next step of selling and fulfilling orders to our physical retail store partners. So your item goes on the shelf in USA retail stores.
Large Order Fulfillment
PCG will operate all local shipping and distribution for wholesale orders to physical retail stores including large pallet and import container shipments or orders can be sent to your 3rd party fulfillment warehouse.
Sales Network
We have a nationwide team and network of sales reps which each have a territory of buyers they know and schedule regular meetings. The reps will present the item directly to the buyer of the larger retail chains shown in our retail partners list. You can remove any of the retailers on the PCG list and we will not approach them. It's your choice.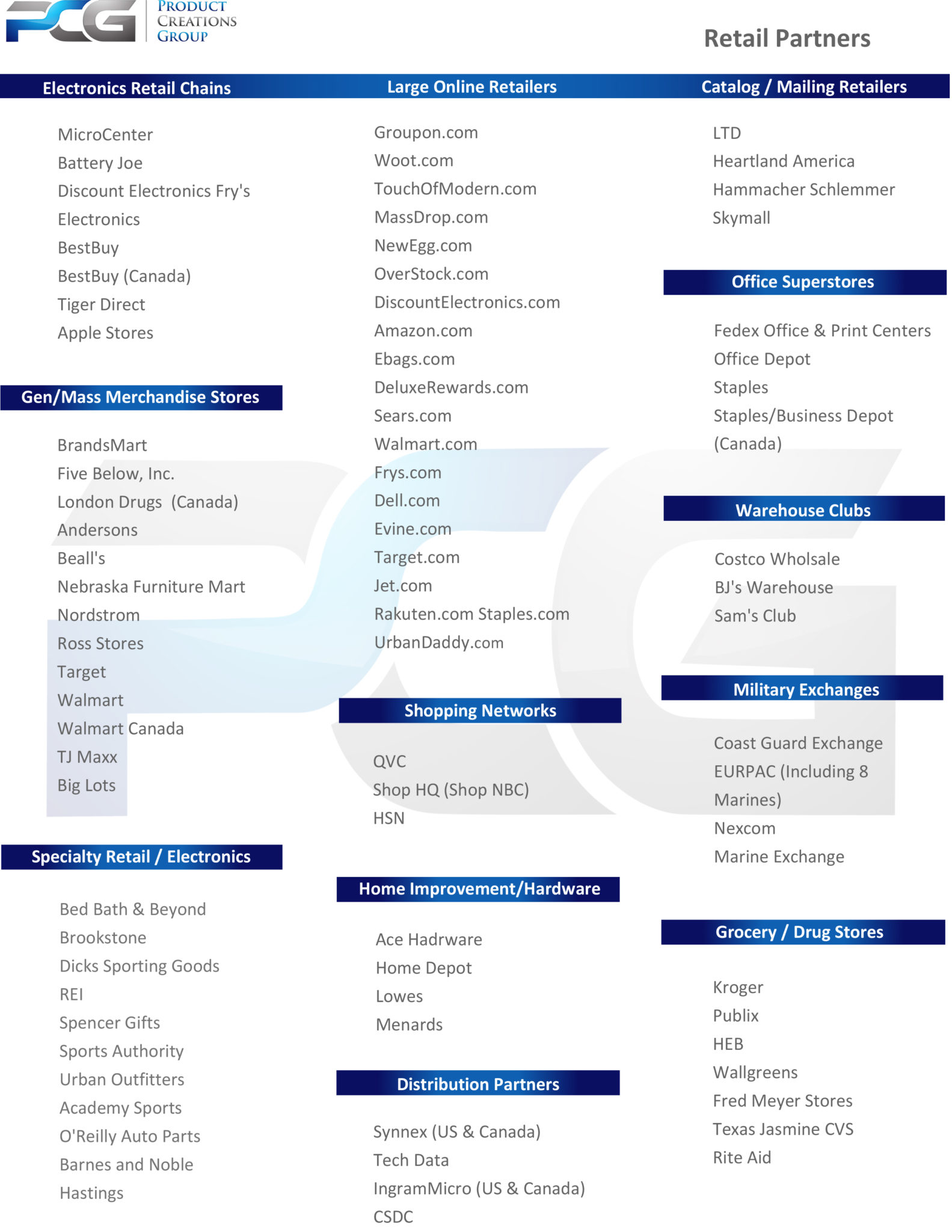 Download Retail Partner List