Factory Direct Wholesale
Factory volume pricing on single items! The PCG-Direct program connects you with thousands of items for sale straight from factory inventories. Have an e-commerce site and want to sell more products? PCG-Direct will dropship single items on your behalf directly to the customer from the factory warehouse located in the USA at factory volume pricing. Checkout thousands of products available for factory dropship at pcg-direct.com. All PCG-Direct pricing is shown at suggested retail (MSRP). Contact support@productcreationsgroup.com for wholesale pricing and partnership opportunities. If you have a Shopify e-commerce store, simply download our Shopify App and start selling! See App details below…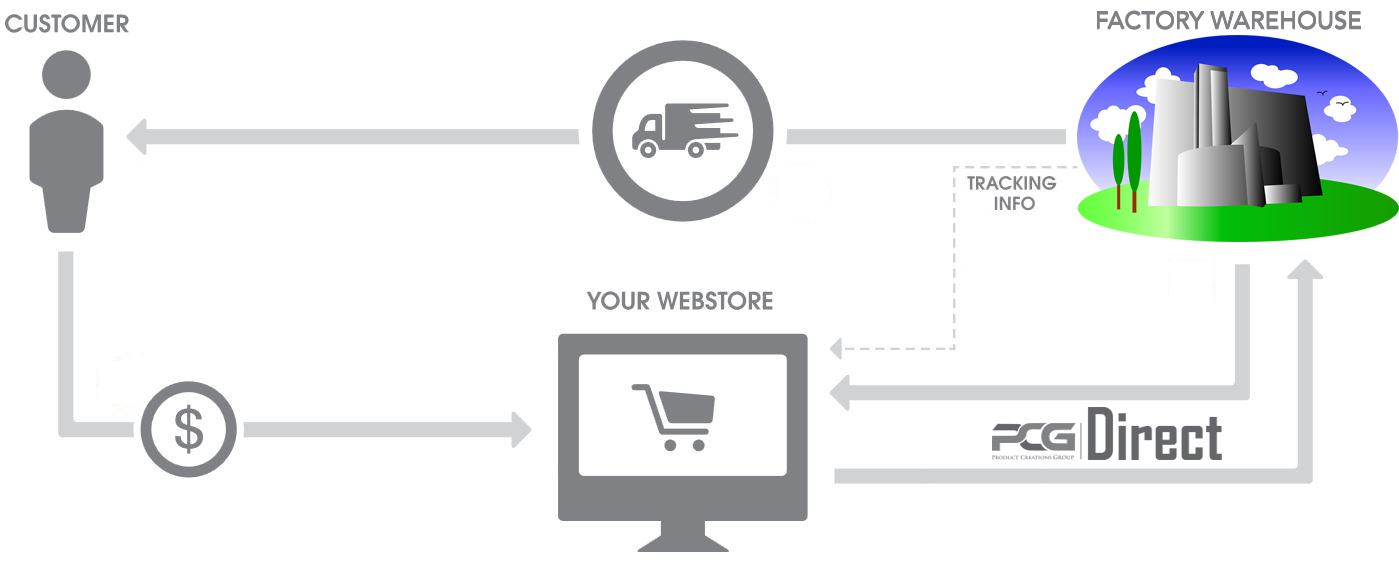 PCG finds factory inventory and negotiates the dropship program. Shop Owners are provided with a list of all products including photos and details and place those products for sale on their website. Customers then buy the products from the Shop Owner. PCG ships the products directly from the factory warehouse to the Shop Owner's Customer and automatically uploads tracking to the shop from the PCG-Direct App. PCG provides additional product support to Shop Owners and Customers. 
Sell on Shopify or Facebook
                         
Download the PCG-Direct App for FREE!
Once the app is downloaded to your Shopify site, you will instantly have access to thousands of factory direct products. The PCG-Direct App integrates with Shopify to automatically install any product onto your site with a click of a button. And Shopify integrates with Facebook. So you can automatically load products directly to your Facebook Shop and start selling immediately.
Simply click on a product you would like to sell and specify your retail price. The product is loaded directly into your Shopify Shop in seconds. When customers buy a product from your site, PCG-Direct will automatically ship directly from a factory stock warehouse in the USA. Products usually ship out the next day using a ground service such as Fedex, UPS, or US Postal. Tracking is automatically uploaded to your Shopify Shop Order and transferred to the customer. Everything is automated and handled for free. If your customer needs support for an item, just refer them to the PCG support page at https://productcreationsgroup.com/support or have them email PCG directly at support@productcreationsgroup.com
There is no credit approval process. Just download the app, place a credit or debit card on file, and start selling. Your account is only charged after a sale and you keep the margin between the factory cost and your retail price. It's that simple.
PCG-GUARANTEE
30-Day Return Policy
With the PCG-Direct program, all factory items are guaranteed by Product Creations Group. PCG enforces a 30 days return policy with all factory inventory warehouses and guarantees that policy with an internal support program. So customers can contact PCG anytime for returns or support. 
1-Year Limited Exchange Warranty
All wholesale items come with a standard 1-year limited exchange warranty for manufacturer defects. Customers can contact PCG-Support directly regarding warranty issues, but please refer to our support page for warranty contact instructions. Don't worry, PCG makes it easy.